Design Ideas for Your New Kitchen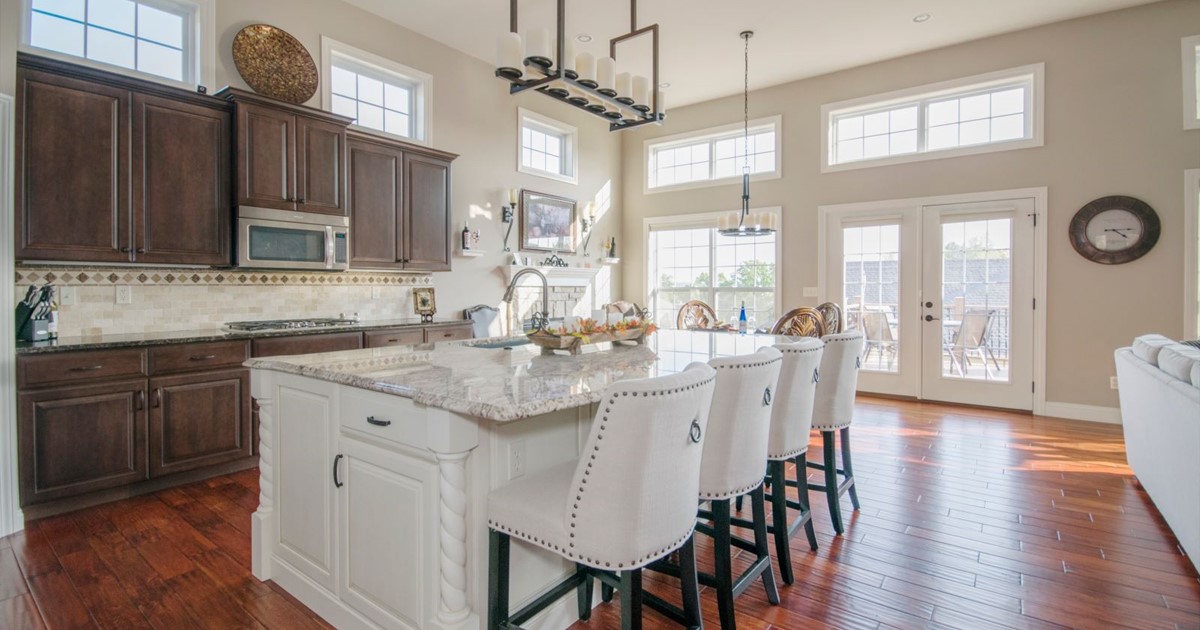 When building a new home, one of the most exciting rooms to design is the kitchen. Without question, the kitchen is one of the most important rooms in a home. From cooking to socializing, homeowners and guests spend a lot of time in this space. The way the kitchen is designed can greatly impact the quality of that time. Poor design can lead to functionality issues, frustration, and dissatisfaction with the kitchen and the home.
Kitchen Design Tips
Here are the best design ideas to consider when designing a new kitchen.
Storage

- When it comes to your kitchen, storage is everything! If you have a place for everything, then it is easier to stay organized and cut down on clutter. More than just your cabinets and drawers, consider utilizing every possible space in your kitchen for storage. We suggest that you think vertically and embrace the height of your kitchen. No space is wasted with tall pullouts, drawers, and shelves. Don't cut corners. Put corners to work with a carrousel-style racks. To really maximize the storage in your kitchen, put unused areas to work.Turn the space in front of the kitchen sink into a cleverly hidden drawer to store wet sponges and scrub brushes.

Concealed Appliances

- The open-concept kitchen has resulted in a growing demand for integrated kitchen appliances that reduce unsightly electrical wirings, and that close the gap between functionality and aesthetics. Not only do built-in appliances keep kitchens tidy, but they also improve coherence between it and the rest of your home, creating a more fluid experience. Induction stoves, refrigerators that look like cabinets, and microwave drawers create a sleek, cohesive look for your kitchen, especially if it's an open concept that blends into your living room.

Multi-Purpose Sink

- Don't skimp out on your sink. Opt for a large sink. Consider adding drainage grates and cutting boards to transform your sink into a full work station. Install two faucets and make space for two people to work at once, perfect for hosting large dinner parties or family meals where everyone shares in the prep work.

Large Islands

- We love large islands with bar stool seating in kitchens. Not only does an island add much needed storage to a kitchen, but it also adds extra countertop space to prep meals and it is a great space for kids to work on assignments while you cook dinner at the same time. Another benefit of an island is it can act as additional seating when entertaining. When designed correctly, the kitchen island can provide added amenities from preparation sinks, refrigerator drawers, and additional cooking area as a way to make your kitchen more functional and useful.
Design Your Dream Kitchen With Guardian Homes
We know that building your dream home is an exciting time. When you work with Guardian Homes, you get to choose exactly what you want. We  can help you pick out cabinets, countertops, flooring, and more to ensure you are happy for many years to come. Our homes are built to last and are built to grow with your family. If you have any questions about designing a custom home or designing the perfect kitchen, our draftsman and builders can guide you every step of the way. Reach out to our team to get started today!