Important Considerations Before Drafting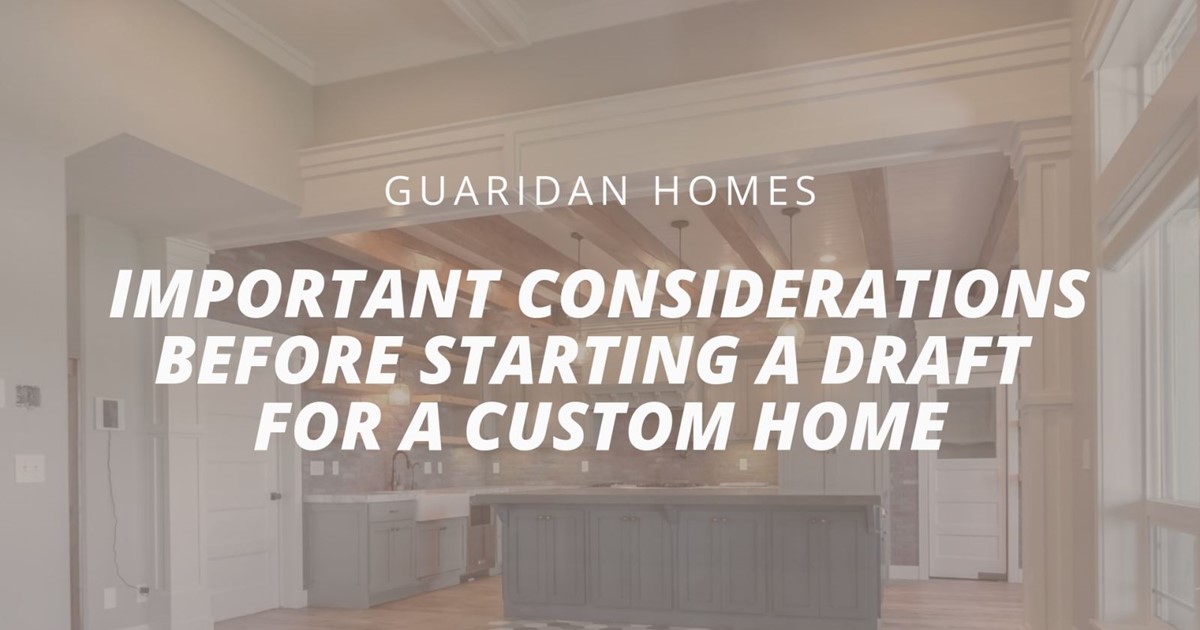 Do you dream of living in something other than a cookie-cutter house? Custom homes allow homeowners to put their personal touch on the design and every aspect of their soon-to-be constructed house. But while most of us have ideas about the homes we want, turning these ideas into reality requires hard work and lots of planning. So before you start on the draft for your custom home, keep these important considerations in mind.
Finalize your financial plan
When building a custom home, you have to make precise decisions about how much you are willing to spend. What areas of the house are you going to spend money on? What materials do you prefer to use? The team at Guardian Homes can guide you through these tough decisions.

It is best to set a range of options from the most modest to your ideal choice. Of course, you also need to figure out other expenses such as the tradesmen, labor, and other upgrades. Only when your financial plan is airtight will you be able to properly proceed with drafting. Guardian Homes will help you every step of the way in deciding what is best for your home and budget.
Double check if the floor and lot area measurements are accurate
It's easy to get excited and plan ahead without double-checking the actual dimensions of the floor and lot area. Guardian Homes is committed to providing the best service and complete transparency. Most homebuyers are actually not aware that the floor measurements they are given are more nuanced than what the paper states. To avoid technical dead-ends down the line, Guardian double-checks the floor and lot area measurements to ensure accuracy. You can be sure what you see is exactly what you will receive.

Build the draft with the entire team
We know, it's YOUR dream home, so you should have the final say when drafting your custom house. However, it is best to have everyone – including the builders, your family members, engineers, and even your neighbors – involved when planning your draft. Ask for suggestions to enrich your design process. In a previous Guardian Homes post, we provided some tips for drafting with expert draftsmen and obtaining permits.
Think within the site
The immediate vicinity is particularly important when designing, as every lot has idiosyncrasies that may get lost in the design process. You have to think within the context of the site. Only then will you be able to take advantage of what your land has to offer. After all, you can't build the location. You can only come up with something that is able to exist within it. This is when architectural expertise comes into play.
Architects help you work through the opportunities of the site. Having a professional helps you understand the property you are buying. Trust in our expertise. We know how to work within the limits and potentials of the site you have chosen.
Guardian Homes expert draftsman can bring your dream home to life. Our expert draftsman utilizes years of experience, cutting-edge design, and drafting software to offer all types of 3D drafting and design for your home.
Don't skimp on the fine print
When starting your draft, don't forget to keep everything in writing. Guardian Homes provides completely detailed plans for you to have. We also offer homeowners a real-time program to keep up with your project. To make things easier, consult with Guardian to give you advice on these matters.