Experienced Luxury Home Builders
Welcome to Guardian Homes. We are confident that you will find everything you need to begin the custom home building experience with us today! Guardian Homes has a long-standing reputation for building beautiful and durable luxury homes, completing projects in a timely manner, and providing impeccable customer service. We offer exceptionally crafted custom luxury homes that meet the desires of customers across the homebuilding spectrum. Whether you already have a lot or need assistance finding the perfect piece of land for your new home site, we have the experience you need to start and complete your project with confidence.
As a company in business for over 14 years, we have extensive experience in the home building industry. Guardian Homes has garnered acclaim for constructing high-quality residential luxury homes. We specialize in building high-end new custom homes in Idaho, Utah, Montana, Washington, and Wyoming. Get exactly what you want out of your home and home building experience with Guardian Homes. When you work with us, you can be guaranteed to receive quality craftsmanship, an outstanding customer experience, and exceptional custom home design.
Talk to our team of home builders in Idaho to discuss building a luxury home near Idaho Falls, Blackfoot, Ammon, Pocatello, Rigby, Rexburg, or Island Park. We also service clients near Park City. If you are interested in building a luxury home in Utah, reach out to our team of home builders in Park City. 
About Guardian Homes
Award-Winning Home Builder
Guardian Homes was founded in 2007 with the mission to build exceptional homes for families to treasure for a lifetime. For over a decade, Guardian Homes has been recognized as an industry leader in home building in the Idaho Falls and Eastern Idaho region. Guardian has grown to have a proven track record of building superior custom homes throughout Idaho, Montana, Utah, Washington, and Wyoming.
Guardian takes pride in providing superior quality and craftsmanship throughout all phases of construction. We have long-lasting and proven relationships with quality subcontractors, many of which have been working with Guardian for the 14 years we have been in business. This ensures that homeowners receive the highest quality materials at the best possible price. See for yourself why homeowners approve of the Guardian Homes experience.
Guardian Homes' Mission
Efficiently create unique living spaces that maximize value and restrict cost.
Accomplishing our mission necessitates a process that is tailored to each homeowner's needs. Let us know which of the following services you need to complete the luxury home you are dreaming of.
Lot Finding and Purchasing
Bidding Existing House Plans
Educating You on all Facets of Building
Setting A New Standard in Home Building

Complete Cost Transparency


In-House Financing Available



Modular Electronics for Technological Systems

Real-Time Budget and Progress Updates
THE GUARDIAN TEAM IS HERE TO SERVE YOUR SPECIFIC NEEDS
There are many intricacies involved in building a new home and we know the home building process can be difficult for the average homeowner to understand. From technical aspects to the terminology of the actual construction, the team at Guardian Homes is with you every step of the way. We take the stress and confusion away from the home building process and make it fun for you.
Here at Guardian Homes, we take pride in every home we build. No matter what your style is, we can build it! When you work with Guardian Homes, you have a team of experts working to meet your every need. Every home is designed and built per each individual and family, making it a truly custom experience. Guardian Homes was built with and has a proven track record of putting honesty, transparency, and quality as its number one priority. We like to sit down and educate our clients about the many options available for their custom home. Our passion is to turn your dreams and ideas into an amazing home that meets your desires while providing the best possible client-builder relationship throughout the entire project.
At Guardian Homes, we start the process of achieving your custom luxury dream home by first asking you to share with us your vision and your needs. Tell us about the interior to the exterior style you like, landscaping requests, and even down to the smallest details. We'll also ask you questions about past homes you've lived in; what you enjoyed or disliked about those homes. Our ongoing discussions with you will help us shape your dream home into reality without compromise. In addition, if you've saved inspiration ideas from magazine clippings or images on Pinterest, we will gather these resources to inform us of your favorite color palettes, architectural styles, textures, and more! The more information we have, the better! We'll also discuss our ideas with you and luxury home floor plans, and samples. As well, we can help you with location siting, if you haven't yet found the ideal location for your new home.
The Guardian Team guarantees complete client satisfaction. We offer unmatched customer service and quality craftsmanship. Contact a Guardian team member today to discuss building your dream custom home.
GUARDIAN HOMES
Luxury Custom Home Builder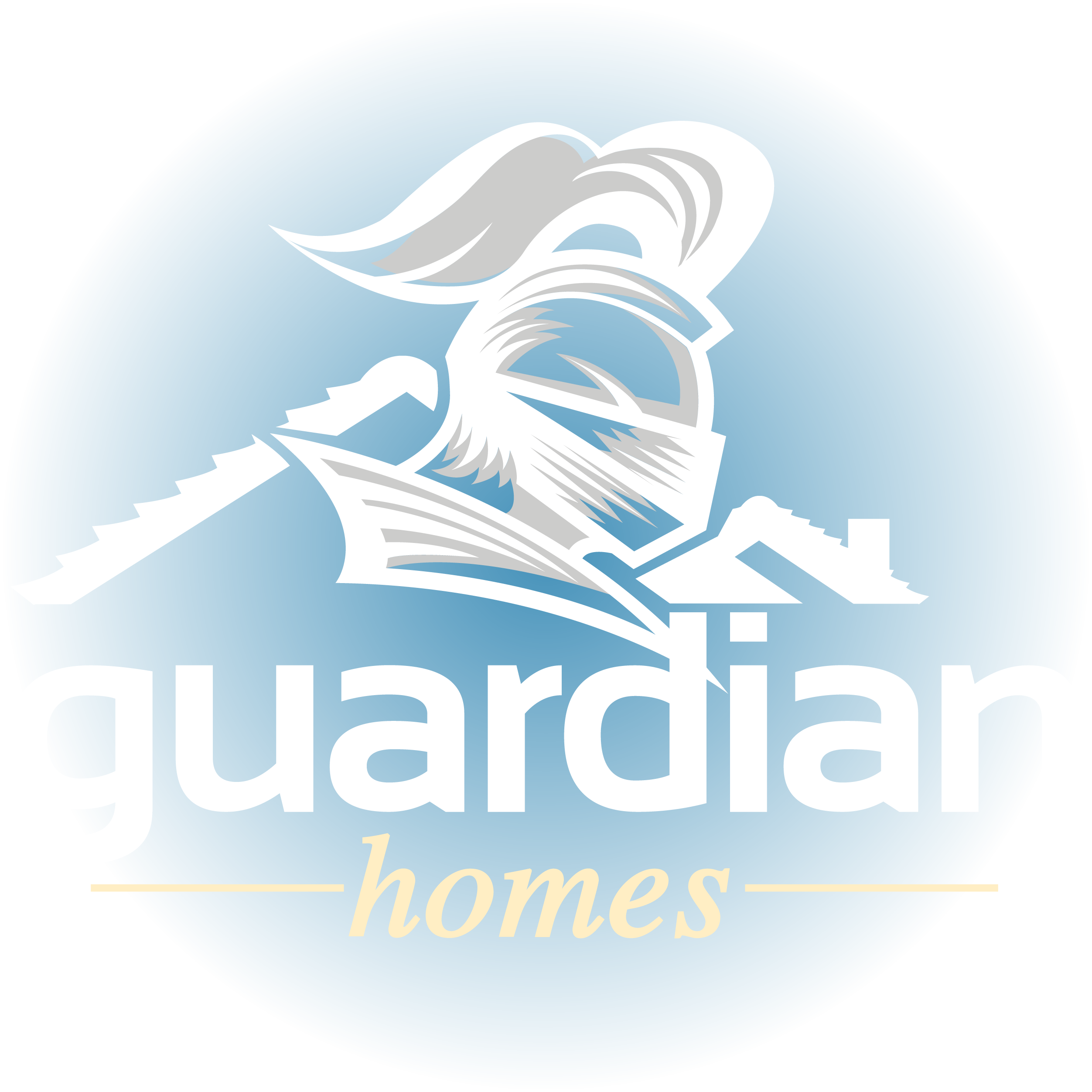 Open Monday to Friday: 8:00 am - 5:00 pm
Open Monday to Friday: 8:00 am - 5:00 pm