Building vs Buying a Home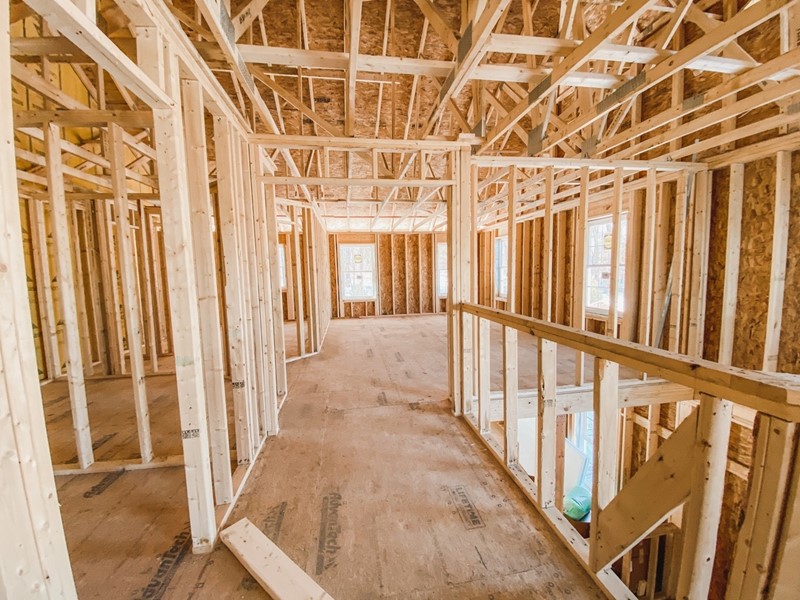 Building a home versus buying a home is an age-old dilemma. It's a decision many people face as they consider settling down in a home of their own. The process of building a home has its own unique set of challenges and rewards that is quite different from the process of buying an existing home.
There are many questions to consider before making the decision: do you want to take on the responsibility for the entire process? Do you hire a custom home builder to handle the work? 
Whether you're interested in building a home from the ground up or purchasing an existing one, researching and weighing the options helps ensure you make the right decision. We'll provide you with the facts to help make this process easier so you can end up in your forever home.
Building a New House
Building a new house is an exciting process. It provides people with the opportunity to create a home based on their wants and needs rather than settling down or compromising. 
Individuals can use their creativity and choose the materials for each room, allowing for a personalized design and style. Let's take a look at the pros and cons of building a house.
Pros of Building a House
Complete customization: A fully customized home means that the house will be one-of-a-kind and unique. Individuals get the chance to input their wants and needs into the layout and design. Ultimately, complete customization equals having greater control over the outcome of a finished home.
Home History: Individuals have complete transparency over their home history without worrying about unexpected issues that may arise in the long term.
Less competition: Individuals won't have to worry about competing against other home buyers for a specific property. According to the 2022 real estate market, existing home inventory dropped at the end of August 2022, making competition fierce for existing properties.
Less ongoing maintenance: A newly built home provides homeowners with ease of mind as the property will meet current building codes and include new technology. It makes repairs or ongoing maintenance low or non-existent. In addition, homeowners won't find any surprises during renovations or upgrades from prior do-it-yourself owners.
Healthier home: Oftentimes, many materials of older properties are unhealthy due to asbestos, lead paint, chemicals in carpeting or bedding, dirty air conducts, mold, improper ventilation, or air leaks in the walls.
Better for the environment: Individuals have the opportunity to make an energy efficient home by using green, Energy Star-rated appliances. Additionally, multiple options exist to make a house greener, such as efficient plumbing, electrical fixtures, and wiring for future technology, such as solar energy. Homeowners can take advantage of this option to make utilities cheaper in the long term helping the environment.
Wide choice of location: Future homeowners have a wide range of choices where they wish to locate their custom-built home, which gives them control over the financial value and future investment.
Forever home: The finished house becomes a forever home for homeowners as it meets their wants and needs. Additionally, a custom home built creates lasting value.
Cons of Building a House
Expensive financing: Depending on the location, design, style, and materials for a new custom-built home, financing may be harder to obtain, or it may present a higher interest rate.
Unexpected costs and delays: The price of lumber may become higher, adding an unexpected cost that may not have been anticipated in estimated upfront costs. There may also be delays due to weather patterns or supply chain issues.
Additional time and stress: Construction of a new home will take time and add stress to individuals. However, at the end of the process, homeowners will end up with the home of their dreams. 
Effort: Future homeowners will need to work with a team of individuals for the design, style, and materials, which includes making final decisions.
Buying an Existing House
Buying an existing house comes with its own set of numerous steps, including financing, researching and viewing homes, making offers, inspections, and closing. Individuals may also need to compromise on individual needs and preferences in style, layout, and features. Let's take a further look into the pros and cons of buying an existing house. 
Pros of Buying an Existing House
Move-in date: The move-in date is a little faster as the home construction was completed months or years in advance. It is a good option for those who wish to move in quickly into their homes. 
Less costly: Financing for an existing home may be easier to obtain, or it may be a cheaper option depending on the state of the real estate market. 
Home renovation options: Individuals can make home renovations or upgrades when time and money are available.
Closer to urban centers: Oftentimes, individuals can find an existing home nearby urban centers, the downtown area, or specific school districts. 
Cons of Buying an Existing House
House buying stress: As part of the process of searching for an existing home, individuals can work with a real estate agent to research and view a chosen set of houses that may meet their needs or wants. However, due to the real estate market in 2022, the demand for homes has increased while the housing inventory has decreased. It makes the process more stressful for future homeowners and leads to our next con in this list.
Bidding wars: Due to low housing inventory, bidding wars happen more often than usual due to multiple potential buyers for a specific property. It adds to the stress and often pushes home prices far higher than the market value, so there are chances of spending more money than necessary. 
Compromise on home design and style: It is rare to find an existing house that meets the needs and wants of home buyers, so many compromises are made when it comes to the design and style of a home.
Maintenance issues: Depending on the home history, the year it was built, and the last remodeling (if applicable), existing homes will have maintenance issues. It could be older appliances that are not energy-efficient, or old plumbing or electrical fixtures that need to be updated to code. When it comes to home renovations, homeowners may find unpleasant surprises that lead to higher costs or unexpected delays.
Less energy efficient: Older homes don't have the same energy-efficient grade making utilities higher in the long term and bad for the environment. 
Potentially hazardous materials: Depending on the year it was built, the health of a house may be compromised due to hazardous materials, such as mold and asbestos. If unknown to the homeowner, it affects the overall health of the individuals who live in such a home. 
Cost of Building versus Buying a Home
Many variables come into play to determine the costs of building a new house versus buying an existing one.
The cost of building a home includes building materials, financing for loans, new major energy-efficient appliances, building and utility permits, excavation, and landscape preparation. 
On the other end, the cost of buying an existing home won't include the same costs as building a new home. However, an existing home may come with its own set of issues that require maintenance, renovations, updating appliances, and potential HomeOwner Association (HOA) fees. 
According to the National Association of Realtors, the existing-home sales housing for October 2022 shows the median sales prices as $379,100 with a 6.6% year-over-year sales price. Even though it may be more affordable, average renovation costs could be between $15,000 and $200,000. It depends on different variables encountered during renovations, such as underlying issues, structural repairs, and square footage. In reality, the price becomes higher at the end.
Working alongside a qualified custom home builder provides financial control over costs of the materials for the design and style of your newly made home, and peace of mind as renovations won't be required. 
Build with Guardian Homes
At Guardian Homes, our team of custom home builders in Park City, Utah, and Idaho Falls, Idaho, take pride in our work and aim to deliver exceptional final results so you can call a house your home. We are specialists in creating a luxury home that will not only meet your personal wants and needs, but lead to an extraordinary financial value within the housing market.
Let our team guide you in the home-building process and create the perfect home on the perfect piece of property. Contact us today for more information! 
Get in Touch
We are dedicated to giving you the best service possible. There is a reason why we have a reputation for being the best custom home builders, and soon enough you'll know why. Building quality homes is our specialty, and we look forward to working with you!