Simplifying Your Life With SMART Home Technology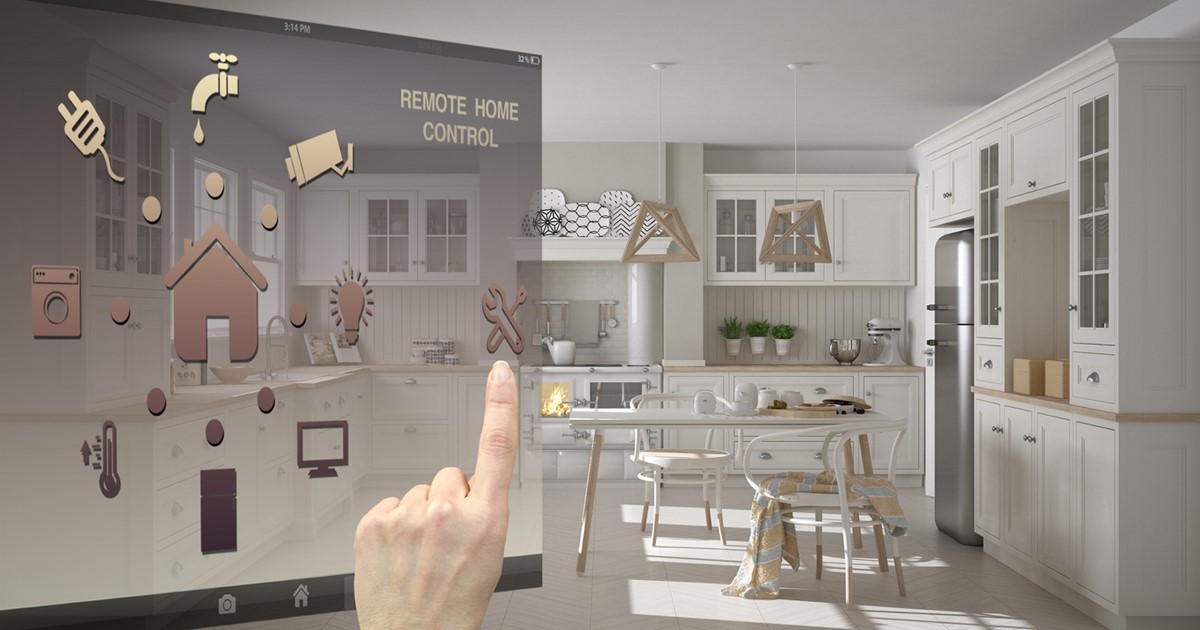 Guardian Homes stays on top of the latest technology and trends to ensure our client's homes are the most cutting edge on the market. You may have noticed on the Parade of Homes that our house #8 was equipped with Alexa smart home features. This means that certain features of our homes can be remotely controlled with Alexa from your smartphone, apps, and other networked devices. Because our home technology works together in one system, it is also referred to as a "connected home".
At Guardian, we strive to make our client's lives easier and more convenient by adding this feature to their custom home. It's about helping people and simplifying your life in ways you may have never even imagined. From lighting to locks, thermostats, kitchen appliances, and garages, the capabilities are endless! Plus, your Alexa-connected devices continue to improve as Alexa's list of smart home capabilities grows in time.
Smart Lighting
Control your connected lights remotely or by voice with Alexa. Turn lights on and off, change the color, and even set brightness or dimmer switches to any room. You can stop worrying about wasting energy when you have smart lighting. Program your lights and motorized shades to switch to an evening mode. You can even program lights to turn on and off automatically when you enter or leave the room.
"Alexa, turn on the lights."
"Alexa, turn off the lights."
"Alexa, dim the lights."
Smart Cameras
With Alexa's camera capabilities, customers can enable live view streams, communicate via the camera, and access recorded video feeds. Have this added level of security so you do not have to worry about what is going on at your home when you are away
"Alexa, show me the nursery."
"Alexa, pull up recent recordings."
"Alexa, talk to the back door camera."
Smart Thermostats
One huge benefit of a smart home is efficiency. Program your smart thermostat to learn your schedule and temperature preferences. Set the best energy-efficient settings throughout the day. With the click of a button, you can order your house to become cooler in time before you get home from work.
"Alexa, raise the temperature two degrees."
"Alexa, set thermostat to heating mode."
Smart Kitchen Devices
Cooking is made easy with smart home features. Alexa can be integrated with cooking appliances like microwaves, sinks, and ovens - you now have voice access to cooking. One main reason to make your kitchen smart is for safety reasons. A smart stove can send alerts to your smartphone if there's a burner left on which can be a lifesaver. Another benefit is the convenience factor and to save time. Some smart stoves can be set to preheat the oven and turn off the oven automatically even if you are miles away.
"Alexa, two minutes on the microwave."
"Alexa ask Moen to fill baby bottle." 
"Alexa ask Moen for ¼ of a cup."


Smart Door Locks
With the Alexa lock controller interface, clients can lock and unlock their lockable devices. This added feature can be life-changing in many ways. No longer do you have to fish around for your keys. Forget hiding a spare key outside, and do not fret if you cannot remember if you locked the house after you left. Not only do smart locks add a level of security and peace of mind, but they can also be more stylish than the traditional deadbolt. Feel safer in your home when you incorporate security and surveillance features in your smart home network. Receive security alerts on your devices depending on the time of day an alert goes off, and monitor activities in real-time whether you're in the house or away on vacation. 
"Alexa, lock my front door."
"Alexa, unlock the back door."


What is a SMART Home?
SMART stands for Self-Monitoring Analysis and Reporting Technology. The greatest advantage of a smart home is that it adds convenience, comfort, and peace of mind. Another added benefit of keeping all of the technology in your home connected through one interface is that it cuts back on the learning curve for new users and makes it easier for homeowners. This type of technology is exciting and it's worth seeing if you want it for your custom-built Guardian home.
To talk about adding smart home features in your Guardian home, reach out to our team in Idaho Falls, Idaho or Park City, Utah. Have this added level of security so you do not have to worry about what is going on at your home when you are away.
Talk to our team of home builders in Idaho to discuss building a luxury home near Idaho Falls, Blackfoot, Ammon, Pocatello, Rigby, Rexburg, or Island Park. We also service clients near Park City. If you are interested in building a luxury home in Utah, reach out to our team of home builders in Park City. 
Get in Touch
We are dedicated to giving you the best service possible. There is a reason why we have a reputation for being the best custom home builders, and soon enough you'll know why. Building quality homes is our specialty, and we look forward to working with you!